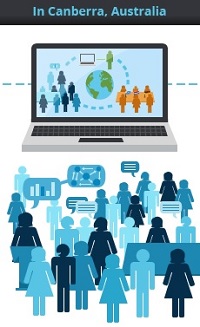 The First Global Conference on Research Integration and Implementation will be held online from Canberra September 8-11, 2013. The conference is for researchers, educators and practitioners who use systems-based, action-oriented, multidisciplinary, interdisciplinary, and trans-disciplinary approaches.
Keynote speakers and great international systems scholars who will also be at the conference include:
Prof George Richardson,  the O'Leary Professor of Public Administration and Policy in the Rockefeller College of Public Affairs and Policy at the University at Albany, and, Prof Gerald Midgley, Professor of Systems Thinking at the University of Hull, UK.
The full range of conference aims and the innovative ways we are seeking to achieve them can be found at www.i2sconference.org . I hope you will be part of the event – in person or online – to help plan the future of research integration and implementation. I am sure people will be interested to learn about your work, so I hope you will submit one or more digital posters to publicise your achievements.
Digital posters are the lifeblood of the conference. Through them we are planning the biggest ever showcase of work relevant to research integration and implementation, especially concepts and methods, along with case studies of their application. Digital posters are quick and easy to put together, and will be placed on the conference website for public viewing and discussion as soon as they are accepted. They will be visible in the lead-up to the conference as well as during the conference itself, and key digital posters will be featured in conference sessions and activities. For information about submitting and viewing digital posters go to  http://www.i2sconference.org/program/digital-posters/.
I also hope you'll help advertise the conference among your colleagues. The conference will provide an opportunity to share information with new audiences and to identify groups from around the world with complementary aims and projects.
If you have any questions or wish to discuss your digital poster don't hesitate to contact me.

Best regards,
Gabriele

===================================================
Professor Gabriele Bammer
Director, Research School of Population Health
Director, National Centre for Epidemiology and Population Health
Co-Director, Australian Primary Health Care Research Institute
ANU College of Medicine, Biology and Environment
The Australian National University
Canberra ACT 0200
ANU Public Policy Fellow

Research Fellow, Program in Criminal Justice Policy and Management
John F. Kennedy School of Government, Harvard University
Program Leader, ARC Centre of Excellence in Policing and Security
Chair, First Global Conference on Research Integration and Implementation: I2Sconference.org
T: 61 2 6125 4578
F: 61 2 6125 0740
E: This email address is being protected from spambots. You need JavaScript enabled to view it. (for RSPH and APHCRI matters)
E: This email address is being protected from spambots. You need JavaScript enabled to view it. (for NCEPH matters)
E: This email address is being protected from spambots. You need JavaScript enabled to view it. (for research issues)
W RSPH: http://rsph.anu.edu.au
W NCEPH: http://nceph.anu.edu.au
W APHCRI: http://aphcri.anu.edu.au/
W Integration and Implementation Sciences: http://i2s.anu.edu.au
CRICOS Provider # 00120C
===================================================