Online presentation and discussion 29 June 2022. More details at ANZSYS Events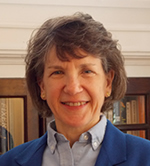 Mary Brydon-Miller, PhD
Professor, University of Louisville, University of Technology, Sydney and North-West University, Potchefstroomity
Mary comments, 'This is probably the first time a gas station has been the focus of a presentation at ANZSSYS.  But this is no ordinary gas station...
The North and South Gloucester Motorway Services sites in Southwest England are a wonder to behold. They offer a farmers' market, delicious food cooked on site, and provide employment to local residents in one of the most economically disadvantaged areas of England. But the larger story is that this model of social entrepreneurship, made possible by a partnership between the Westmorland Family and the Gloucestershire Gateway Trust, provides three pence on every pound spent at the services to support local non-profit organizations. Mary's presentation describes her work on Asset-based Community Development in South Gloucestershire, UK. For the past six years she has worked with local partners to conduct participatory action research to guide the work of the Trust in promoting its approach to Asset-Based Community Development. This presentation will provide an overview of the project focusing on our use of a community-resident research team and the outcome of a series of Future Creating Workshops in the target neighborhoods supported by the Trust.'

For more details see https://www.gloucestershiregatewaytrust.org.uk/
Presenter:
Mary Brydon-Miller, Ph.D. is Professor in the Department of Educational Leadership, Evaluation, and Organizational Development in the College of Education and Human Development at the University of Louisville in the US. She is a participatory action researcher who conducts work in school, community, and organizational settings and is the editor, with David Coghlan, of the SAGE Encyclopedia of Action Research (2014). Her most recent book, with Sarah Banks, is Ethics in Participatory Research for Health and Social Well-Being: Cases and Commentaries (2019). 
Mary has worked with the Gloucestershire Gateway Trust since 2017 on an on-going participatory evaluation process designed to inform the development of this social enterprise initiative.  She is also working in the area of Climate Change Education and is currently serving as a Fulbright Research Fellow at the University of Technology, Sydney.
Details about Mary's career can be found in her CV.