Online presentation and discussion 8 July 2021 more details at ANZSYS Events.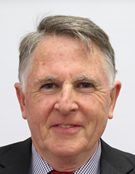 Dr Terence Love
Terence's presentation describes a new Systems approach, Variety Dynamics for analysis,management and control of highly-complex, coercive, unbounded or chaotic systems - and more normal systems.
Variety Dynamics was initially developed by Dr Terence Love around 2000 following a challenge from co-researcher Professor Brynjulf Tellefsen of BI in Oslo to create a systems approach that would explain and extend the methods Machiavelli described in 'The Prince'. It is primarily described in terms of Variety Axioms  that extend the early work on variety undertaken by Ross Ashby, Claud Shannon, Stafford Beer and others.
Dr Terence Love and Dr Trudi Cooper published the first  variety axioms in the mid 2000s. Since then, Terence has developed fourteen distinct Variety Axioms and systems methods of which six have been published to date.
It is hoped this new variety-based systems approach will revolutionize and reinvigorate systems development in the area of complex coercive systems, and any complex systems in which differential power and control are involved along with the need for management by  actors with less power, e.g. in climate management.
https://zoom.uts.edu.au/j/3282155789
Presenter
Dr. Terence Love is CEO of the Design Out Crime and CPTED Centre and Love Services Pty Ltd Sustainability Consultants and an occasional academic.
Terence has been involved in Systems for over four decades including in the early days of Systems at Lancaster University in the UK. His early systems interests were in design optimisation and control of non-linear feedback systems.  He has been involved in systems-based research in a wide variety of projects including AI control of infrastructure systems, robotics, sustainability research, managing crime in rail systems and contributing to national policy development for Indigenous Night Patrols to protect vulnerable young people.